10269: Harley-Davidson Fat Boy
Pieces: 1023
Price: $99.99
Available starting Aug 1st, 2019!
Notes:
Bringing this Harley-Davidson motorcycle to life in brick form is incredibly exciting, the model truly captures the iconic design, advanced engineering and attention to detail of this iconic motorcycle, offering an immersive building experience and a unique collector's item for Harley-Davidson enthusiasts and Lego fans of all ages
Harley Davidson Official Video
---
10248: Ferrari F40
Pieces: 1158
Price: $99.99
Notes:
The first set I ever made for Creator Expert! I inherited a concept version of this car from Morten Graff-Wang who had done the initial design for the new windscreen element.
There were a lot of challenges to get this model working right. The biggest sense of relief I ever felt though was when I discover how well the 2×2 plate with combi hinge on top worked to hold on the side 'rails' of the car. What a lifesaver!!
Link to Amazon
---
10265: Ford Mustang
Pieces: 1471
Price: $149.99
Notes:
This is the car I'm MOST proud of (so far ;)). I worked on this model together with Adam Grabowski, a fellow model designer, and Mani, Zamani, the designer of the new rim and 2×8 brick with bow.
I'm super excited that we were able to implement steering (thanks to the new rim design). I spent a lot of time working to get the front bumper and doors working and looking the way I want them.
Overall I think this is the most beautiful car we've ever made. It's a pretty good car to translate to Lego, but we also really put a lot of work into getting it just right.
Link to Amazon
---
21309: NASA Apollo Saturn V
Pieces: 1969
Price: $119.99
Notes:
This was a joint project with Carl Merriam. We were so excited when we saw this project get approved that we started designing the model before we knew we would be allowed to develop it. My favorite parts that I worked on are the stage I engines and the connection between stage II and stage III.
Link to Amazon
---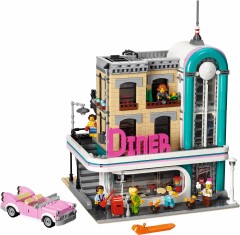 10260: Downtown Diner
Pieces: 2480
Price: $169.99
Notes:
I got to make a modular building! We wanted to do something really crazy after the 10 years anniversary of the modular buildings, and I think this fits the bill pretty well. Carl made the stovetop hood, I made it buildable. Teamwork at its best!
Link to Amazon